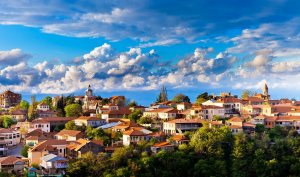 Signagi is located in the Kakheti region of Georgia, settled since the Paleolithic period. Signagi
as a settlement is first recorded in the early 18th century. In 1762, King Heraclius II of Georgia sponsored the construction of the town and erected a fortress to defend the area from marauding attacks by Dagestan tribesmen.
Established by King Vakhtang Gorgasali in the 5th century, Ujarma Fortress (Georgian: უჯარმა ციხე) was the second capital of Georgia until the 8th century. King Vakhtang Gorgasali is believed to have died there after he was waounded in battle against the Persians.