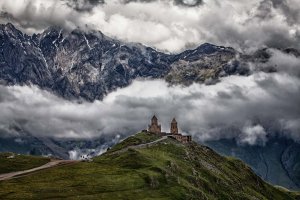 The Darial Pass was historically important as one of only two crossings of the Caucasus mountain range, the other being the Derbent Pass. As a result,Darial Gorge has been fortified since at least 150 BC. Ruins of an ancient fortress are still visible. The pass served as a hub point for many roads connecting North and South Caucasus and remained open for traffic for most of its existence.
The Gergeti Trinity Church was built in the 14th century, and is the only cross-cupola church in Khevi province. The separate belltower dates from the same period as the church itself. Its isolated location on top of a steep mountain surrounded by the vastness of nature has made it a symbol for Georgia. The 18th century Georgian author Vakhushti Batonishvili wrote that in times of danger, precious relics from Mtskheta, including Saint Nino's Cross were brought here for safekeeping. During the Soviet era, all religious services were prohibited, but the church remained a popular tourist destination. The church is now an active establishment of the Georgian Orthodox and Apostolic Church.
About 7km north of Stepanstsminda village, at both ends of the forked valley, lies a couple of nice waterfalls known as Gveleti.