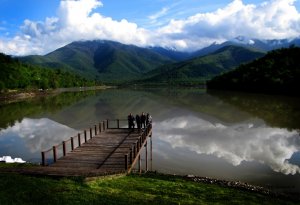 nekresi Monastery is one of the largest monastery complexes in the Kakheti region of Georgia and
was
founded
by St. Abibos
Nekreseli,
one of the famous thirteen Syrian fathers. ABOUT SIGHTS – NEKRESI MONASTERY
Nekresi Monastery is one of the largest monastery complexes in the Kakheti region of Georgia and was founded by St. Abibos Nekreseli, one of the famous thirteen Syrian fathers.
Situated on top of a steep hill overlooking the Alazani valley, the complex contains various ecclesiastical buildings built at different times, including: the Blessed Virgin Church (VI-VII century); a basilica-type church that dates to the IV century (one of the earliest surviving Christian churches); a two-storey bishop's palace (IX century); a four-storey tower (XVI century); and a wine cellar (marani).

Gremi was the capital of the Kingdom of Kakheti in the 16th and 17th centuries. Founded by Levan of Kakheti, it functioned as a lively trading town on the Silk Road and royal residence until being razed to the ground by the armies of Shah Abbas I of Persia in 1615. The town never regained its past prosperity and the kings of Kakheti transferred their capital to Telavi in the mid-17th century. There was big Armenian population.